Lead-Free Solder Ball
Description
☆ Manufactured from alloy and BGA Solder Ball, and R & D per customer needs.
☆ self-developed patent production equipment, can produce 0.035mm~0.889mm high quality BGA solder ball, suitable for semiconductor and related industries for packaging.
☆ Packaging material using anti-static material, static electricity can be attached to avoid the bottle, resulting in the use of distress.
☆ original patents were obtained, can be safe to use, no infringement concerns.
IC Packaging Materials
Catalog and Specification
Product Specification/ Packing Method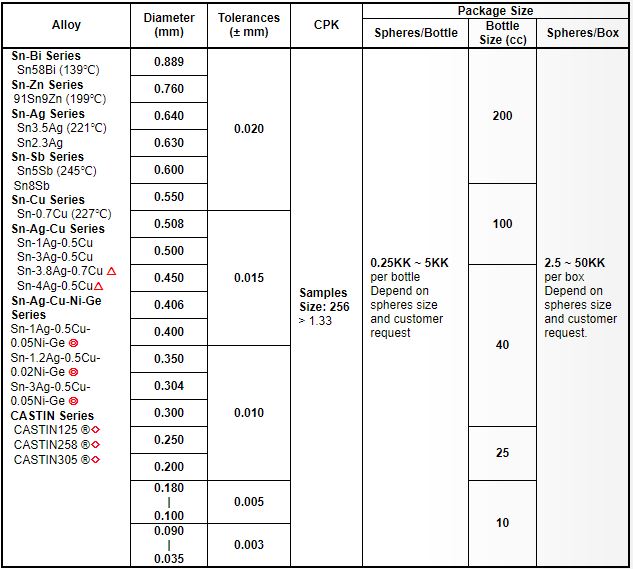 Low Alpha Solder: we can provide various of low alpha level product. Alpha particles <0.01 cph/cm2 , <0.002 cph/cm2, <0.001 cph/cm2
Patent No:
△ ISURF-U.S 5,527,628 not include Japan
◇ AIM-U.S5,352407 U.S5,405,577 JP2,752,258
◎ FUJI-U.S6,179,935 JP3,296,289
Note:
<1>If need product information or other materials, sizes & spec., please call me we will provide the relevant document or information.
<2>Some Alloys / Diameters are subjected to MOQ or special production cost.